Leading Sliding Partition Manufacturer in India -
Quality Solutions for Space Management
Slide 1
Slide 2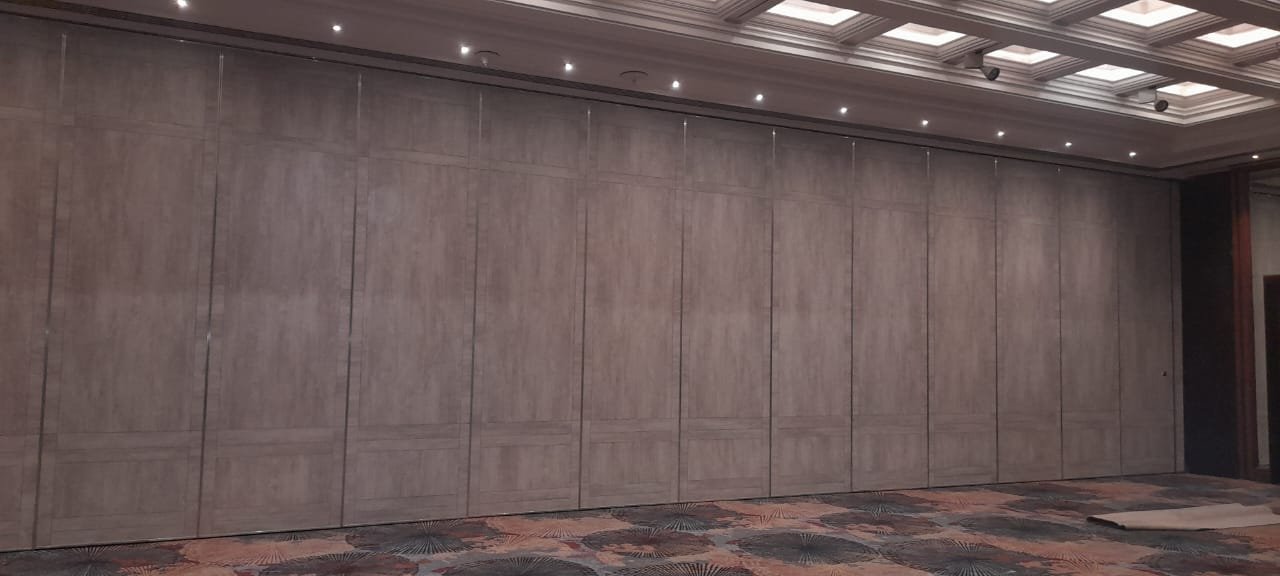 Slide 3
Are you tired of traditional hall divisions that limit your space? Looking for a flexible solution that allows you to transform your space with ease? Enter the world of sliding partitions, the ultimate game-changer in interior design. A sliding partition, also known as a sliding folding partition, offers a dynamic approach to dividing spaces, providing both functionality and style. Whether you need to create separate spaces in a large open area or maximize the use of a compact space, sliding folding partitions offer a versatile solution. As a leading sliding partition manufacturer, we understand the importance of customizable and efficient space management. 
Sliding partitions are revolutionizing the way we utilize our working spaces. With their sleek and space-saving design, sliding folding partitions offer a seamless transition between open areas and private conference rooms. These versatile partitions can be effortlessly moved to create separate sections or expanded to create a larger, unified space. As a sliding folding partition manufacturer, we have honed our expertise in crafting high-quality partitions that are not only functional but also aesthetically pleasing. With their smooth gliding mechanism and sturdy construction, our sliding partitions guarantee durability and ease of use.
But what sets our sliding partitions apart from the rest? Our commitment to innovation and customer satisfaction We understand that every space has unique requirements, and our sliding partitions can be customized to fit your specific needs. Whether you are looking for soundproof partitions for office spaces, elegant banquet halls, hotel dividers for commercial areas, or flexible solutions for event venues, our sliding folding partitions are designed to meet diverse demands. The sliding partition can be used in Hotels, Multi-functions halls, Meeting halls, Convention Centers, Colleges and Schools, Banquet halls, Training rooms, etc. The sliding partition provided by us is made up of the best quality materials, has 1-hour fire-rated properties, and, most importantly, is very cost-effective. Our expert team, led by renowned industry professionals, ensures that our sliding folding partitions adhere to the highest quality standards. So, if you're ready to unlock the full potential of your space and embrace the versatility of sliding partitions, join us as we embark on an exploration of this transformative interior design solution.
HOW DO ECOTONE ENSURE SAFE AND SECURE SLIDING PARTITION INSTALLITION?
Survey:

When Team Ecotone engineers conduct an onsite survey, they perform a range of tasks to gather essential information and assess the site's conditions. Here is a description of what engineers typically do during an onsite survey.  During the onsite survey, engineers document their observations, measurements, and findings in detail and suggest the best products suitable from a wide range of acoustical products manufactured by Ecotone like

Sliding partitions, Acoustic Wall Panels, and auditorium acoustics. We

 create sketches, diagrams, or digital representations of the site, noting key features, and boundaries.

Suggestion:

Team Ecotone began by thoroughly examining the site and its surroundings. We evaluate the existing infrastructure, terrain, environmental factors, and any potential constraints that may impact their work. This assessment helps them understand the site's context and identify challenges and tries to understand the client's needs and suggest the best product suitable.

Drawing/Designs:

Once the requirements are gathered, engineers and designers translate them into a detailed product design. This stage involves creating 2D or 3D models, selecting appropriate materials, and determining the manufacturing processes necessary to bring the product to life. Design considerations include functionality, aesthetics, ergonomics, safety, and manufacturability.

Manufacturing:

Once the prototype is approved, a comprehensive production plan is developed. This plan outlines the materials, equipment, manufacturing processes, and quality control measures required for mass production. It includes considerations such as production capacity, lead times, resource allocation, and supply chain management.

Installation:

Once the products are manufactured and undergo final quality checks, they are packaged appropriately for shipment. Packaging considerations include protection, branding, labeling, and compliance with shipping regulations. The products are then delivered to the client according to the agreed-upon logistics and delivery schedules. And installed by Team Ecotone at the site.

Post-Production Support: After the products are delivered, manufacturers often provide post-production support to address any issues, provide maintenance guidelines, and offer customer assistance. We provide a

5-year warranty for

sliding partition

rollers

, and spare parts are also available.  This helps ensure client satisfaction and establishes a long-term relationship between the manufacturer and the client. 
WHY CHOOSE US AS A SLIDING PARTITION MANUFACTURER?
When it comes to selecting a reliable and reputable sliding partition manufacturer, we understand that you have numerous options to consider. However, at Ecotone, we believe that our company stands out from the competition for several compelling reasons. Here are the key factors that make us the ideal choice for all your sliding partition needs:
Quality Craftsmanship

:

We pride ourselves on delivering sliding partitions of the highest quality. Our experienced team of skilled craftsmen utilizes cutting-edge technology and superior materials to manufacture partitions that are not only visually appealing but also durable and long-lasting. We pay attention to even the smallest details to ensure that our products meet the highest standards of excellence.
Customization Options

:

We understand that every space is unique, and your sliding folding partitions should reflect that. As a leading manufacturer, we offer a wide range of customization options to suit your specific requirements. From different sizes and finishes to various materials and designs, we provide a level of flexibility that allows you to create sliding partitions that perfectly match your vision.
Versatility and Functionality

:

Our sliding partitions are designed to offer versatility and enhance the functionality of your space. Whether you need to divide a large area into smaller sections, create temporary rooms, or maximize the use of available space, our partitions can be effortlessly adjusted to meet your changing needs. We prioritize ease of use and smooth operation, ensuring that our partitions seamlessly integrate into your environment.
Sustainable Solutions:

As an environmentally conscious manufacturer, we prioritize sustainability in our manufacturing processes. We are committed to utilizing eco-friendly materials and employing sustainable practices to minimize our carbon footprint. By choosing our sliding partitions, you contribute to a greener future while enjoying the benefits of high-quality and sustainable products.

Timely Delivery and Installation

:

We understand the importance of timely project completion. Our streamlined manufacturing process and efficient logistics allow us to deliver your sliding folding partitions within the agreed-upon timeframe. Moreover, our team of skilled technicians ensures professional installation, guaranteeing a hassle-free experience and optimal performance of our products.
Excellent Customer Service

:

At Ecotone, customer satisfaction is our top priority. We are dedicated to providing exceptional service throughout your journey with us. From the initial consultation to after-sales support, our knowledgeable and friendly team is always available to address your queries, provide guidance, and ensure that your experience with us is nothing short of excellent.
Trusted Reputation

:

With years of experience in the industry, we have established a strong reputation as a trusted sliding folding partition manufacturer. Our commitment to quality, innovation, and customer satisfaction has earned us the trust of numerous clients across various sectors. You can rely on us to deliver superior products and services that exceed your expectations.
Choosing Ecotone as your sliding partition manufacturer means choosing reliability, quality, customization, sustainability, and exceptional service. Contact us today to discuss your requirements and let us provide you with the perfect sliding folding partitions to transform your space.
FAQs| SLIDING PARTITION MANUFACTURER IN INDIA
How Do You Partition A Hall?
Partitioning a hall using sliding partitions is a flexible and convenient solution. Assess your needs, choose the right sliding folding partitions, measure the space, install them properly, and customize them as desired. Enjoy the adaptability and transformed space provided by these innovative room dividers.
How Do I Control Noise In An Office Conference Room?
To control noise in an office, consider using acoustic sliding partitions. These specialized partitions are designed to reduce sound transmission and provide soundproofing capabilities. By installing acoustic sliding folding partitions, you can effectively minimize noise disturbances and create a quieter environment in your space. The sound-absorbing materials and construction of these partitions help to create a more peaceful and controlled acoustic atmosphere, enhancing privacy and comfort in various settings such as offices, conference rooms, event venues, and residential areas.
What Is A Good Aesthetic Product To Control The Noise In A Convention Center?
An excellent aesthetic product for controlling noise inside a room is an acoustic sliding partition. These partitions not only provide effective soundproofing but also offer a visually appealing design. They are available in various styles, finishes, and customizable options, allowing you to choose an acoustic sliding folding partition that complements the aesthetics of your space. With their sleek and modern appearance, acoustic sliding partitions strike a balance between functionality and visual appeal, making them an ideal choice for creating a quiet and aesthetically pleasing environment in your space.
Project Has been Delivered
ECOTONE ACOUSTICS - CUSTOMER REVIEWS