Acoustic Sliding Folding Partition |
Sliding Partition
Slide 1
Slide 2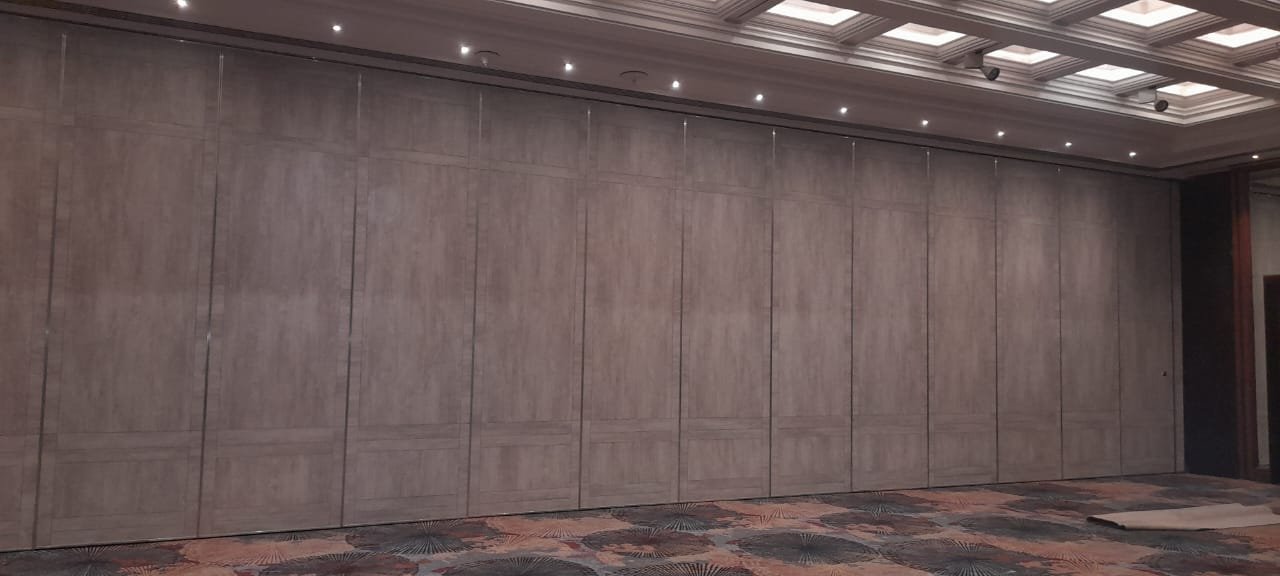 Slide 3
A sliding partition is a movable wall partition or divider that can be used to separate a space into smaller sections or create a more open floor plan. Sliding partitions are commonly used in offices, banquet halls, restaurants, auditoriums, and other commercial spaces to create temporary or semi-permanent divisions between rooms. One of the benefits of acoustic sliding folding partitions is their ability to offer flexibility in how a space is used. For example, a large conference room can be divided into smaller meeting rooms, or an open-plan living area can be separated into distinct zones for dining, entertainment, and relaxation.
Movable wall partitions are made of high-quality materials and flow along a horizontal guide attached to the ceiling, which is assembled according to our trademark design. Our floor track acoustic sliding folding partition system is simple, fast, and secure. We have a wide range of acoustic sliding folding partition wall options that can be customized to meet customers' needs. The system can be floor supported with a slimline floor track, eliminating the need for significant structure at the head, or can be hung from the top if support is available.
These wall systems can be single-parting and stacked at one end, or bi-parting and stacked at both ends. Pass doors can be included, and glazed options are available. Sound ratings of up to Rw50dB can be achieved with Class 1 and Class 0 SSF (Surface Spread of Flame). Panels can be quickly opened and closed in position and offer a wide range of finishes, including magnetic dry-wipe, raw MDF, plain and wood grain laminate, and polished veneer. We would be happy to discuss your detailed requirements.
GET A VARIETY OF FINISHES ON ACOUSTIC SLIDING FOLDING PARTITION
The panel, once deployed, achieves a sealing effect using retractable pressure seals. These seals can be easily controlled or locked through a simple on-site operation. Users can turn the waist-high operating handle to release the pressure seal, with the handle controlling the top and bottom seals simultaneously. Proper mounting of sound-isolating pressure seals is important, and our operating wall system utilizes heavy-duty rubber seals. These retractable drop-down seals have a thickness of 20mm.
For a sleek and modern appearance, we offer options such as Raw MDF, Painted, Mica Laminate, Fabric Finish, and Acoustic Board finishes. These finishes not only add elegance to the sliding partitions but also provide a smooth and durable surface that is easy to clean and maintain.
If a more natural or rustic look is desired, our sliding partition system can be finished with wood veneers or laminates. These finishes create a warm and inviting ambiance, seamlessly blending with the surrounding decor.
Moreover, we understand the significance of customization to meet specific design requirements. Our sliding partition system allows for the incorporation of custom finishes, including specialized paints, wallpapers, or even digitally printed graphics. This level of flexibility ensures that our panels can be seamlessly integrated into any environment, whether it's a corporate office or a hospitality venue space.
FAQs| ACOUSTIC SLIDING FOLDING PARTITION
How Effective Are Acoustic Sliding Folding Partitions In Controlling Sound?
Acoustic sliding folding partitions are designed with sound insulation properties to minimize noise transmission between divided spaces. When installed correctly and maintained properly, they provide excellent sound control, creating quieter environments and reducing disruptions.
Are Acoustic Sliding Folding Partitions Customizable?
Yes, acoustic sliding folding partitions offer a range of customization options. You can choose from different panel materials, finishes, colors, and additional features to match your specific requirements and aesthetic preferences.There are various options available for finishes, including glass, wood, fabric, or whiteboards, allowing for seamless integration with the existing interior design.
How Much Sound Can Acoustic Sliding Folding Partitions Block?
The acoustic performance of Acoustic Sliding Folding Partitions varies depending on the specific product and its design. High-quality partitions can offer sound insulation of up to 55 decibels or more, effectively reducing noise transmission and ensuring privacy in adjoining spaces.
Project Has been Delivered
ECOTONE ACOUSTICS - CUSTOMER REVIEWS