Movable Wall Partition |
Banquet Hall Partition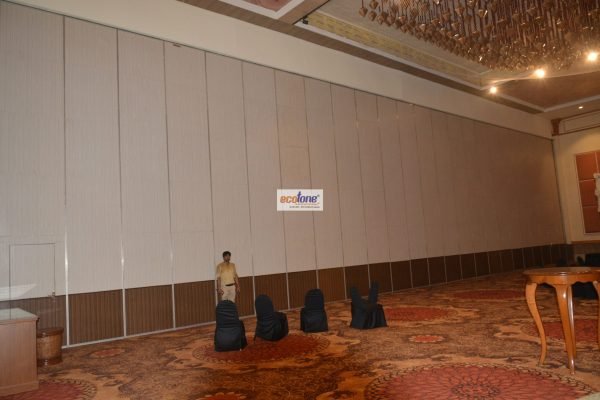 Ecotone Systems manufacturer and supplier of Movable wall partition, movable sliding partition, and banquet hall partition in India. We provide movable sliding partition / banquet hall partition at a genuine price and with the best quality material. The noisy environment not only deteriorates your natural environment but also causes a clamor to hamper your work productivity. With the ever-increasing cost of the property, there has never been a better time to utilize space more effectively and movable sliding partition (also known as movable folding partition/sliding partition) are increasingly seen as a cost-effective option to achieve this goal.
Ecotone provides the best and comfortable arrangement of the banquet hall partition which is suspended from the roof tracks. Movable wall partition divided into wide-open areas, flexible to work together in a single large hall such as weddings, conferencing, meetings. This modern technological feature is known as sliding folding partitions or movable walls. All types of partitions are treated internally and are very elegant for beauty. We are committed to making your space comfortable and offer a wide range of sliding folding systems to fit your need perfectly.
During the initial consultation, we determine various issues, such as the level of sound loss (acoustic performance), whether the system should be top hung or floor supported, and also what is available.
Where movable wall partition can be used:
Movable wall partition can be installed in hotels, multi-function halls, meeting rooms, convention centers,
residential areas, colleges and schools, banquet halls, training rooms, etc. We provide quality and reliable services at very effective prices across India.
Movable wall shall be top-supported, stacked in an area designated in manually operated panel plans. When closed, the operational wall will provide a complete sound retardation barrier.
However, you are not going to be concerned with this scenario because detailed contact information about our customer-friend representatives is available to talk at any time. This feature proves to be of great use as you can easily get authentic and reliable answers about every query on an immediate basis. A penny is not required to perform this task as we provide free consultancy service to each of our clients. Obviously, we are devoted to customers so do everything possible to satisfy them. On a simple request, we provide tailor-made solutions without any question. This feature proves to be of great use as you can make the most of the available area to reduce space constraints.
The Movable Wall Partition is the most efficient and perfect solution to utilize the workspace more effectively. Sometimes due to lack of space and facility, it becomes necessary to have a viable solution through which one is able to sense out the great results. With the help of our latest methodologies and tools, we create partitions such that the noises should not collapse or overlap each other. Quite an easy and effective facility that will help you enjoy the benefits with great technology.
Salient feature of banquet hall partition :
Get hassle free movement with movable wall partition
Latest design embedded with the sturdy construction
Various kinds of nice designs and textures that can fit according to the need of an individual.
we provide movable wall partitions for a large and small space such as a conference hall where a moveable wall is called for, or a office conference space to be divided by one of our concertina partitions,
Ecotone Systems movable wall partitions are acoustically treated, the 100 mm thick partition filled with sound absorbing and damping layer to achieve 50STC acoustic performance, We are proud to announce the introduction of operable partition acoustic performance with an unprecedented industry leading 55 STC along with automatic operation courtesy top and bottom seal mechanism. Ecotone also provides fire rated movable wall partition which is 1-hour fire rated.
Ecotone Systems partition having omni-directional or individual, single panels are manually operated and offer optimum room flexibility. The track system enables the panels to negotiate angles and intersections and be moved to alternate locations. Curved and self-sorting track systems are available as well. Single panels are often used in hotel ballrooms and meeting rooms and convention centers; however, they can be used in every type of facility.
Advantages Ecotone Systems Movable Wall Partition
Solves complex layout challenges
Intelligent and Flexible space utility
Satisfies high ceiling requirements with custom engineered panels up to 50STC
Simplifies setup and storage with the use of easy suspension system
Accommodates wide variations in floor conditions
Optimal for usage in conference, multi-purpose, hospitality and convention facilities
Satisfies high ceiling requirements with custom engineered panels up to 24′ high
Accommodates wide variations in floor conditions
Simplifies setup and storage with the use of the suspension system
Optimal for usage in conference, multi-purpose, hospitality and convention facilities, Creating extra revenue in Hotels, Conference Halls, Convention Centers by holding several smaller functions as well as large ones
The most favoring advantage is it provides excellent high privacy, energy savings and at the same time aesthetically appealing flexibility (Layouts of the room can be changed as per the venue requirements) in the form of sound proofing.
Ecotone Partition System Design
Partition face finishes design
The face finishes are made to coordinate ceiling style and the surrounding decoration, face Finishes can be made by customer in field, or made at ECOTONE factory.
Custom face finishes: Melamine board, high-pressure laminate, wood veneer, wall paper, Wall fabric (with sponge or without sponge), color steel plate.
Stacking methods: stacking of partition having so many option which make it easy to store .