Auditorium Acoustic Treatment |
Soundproofing in Auditorium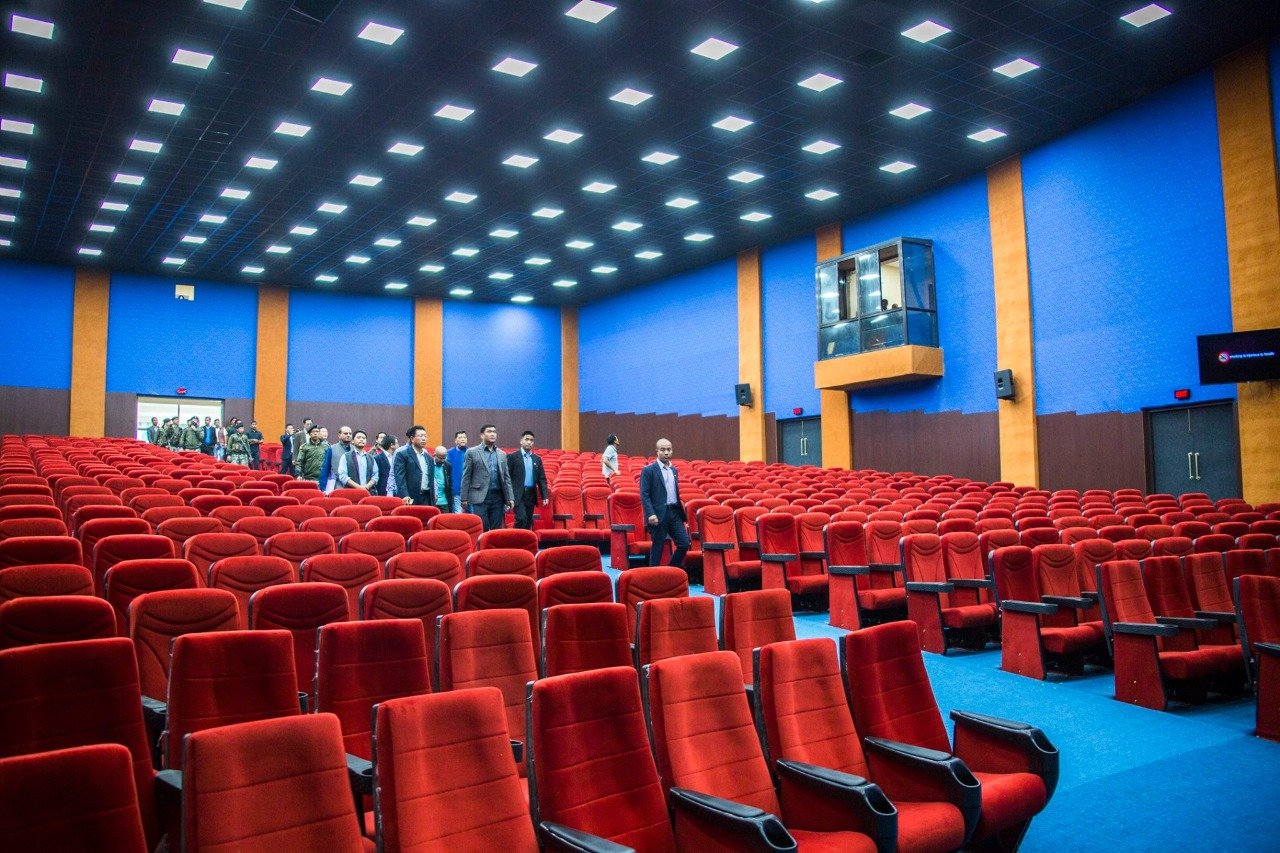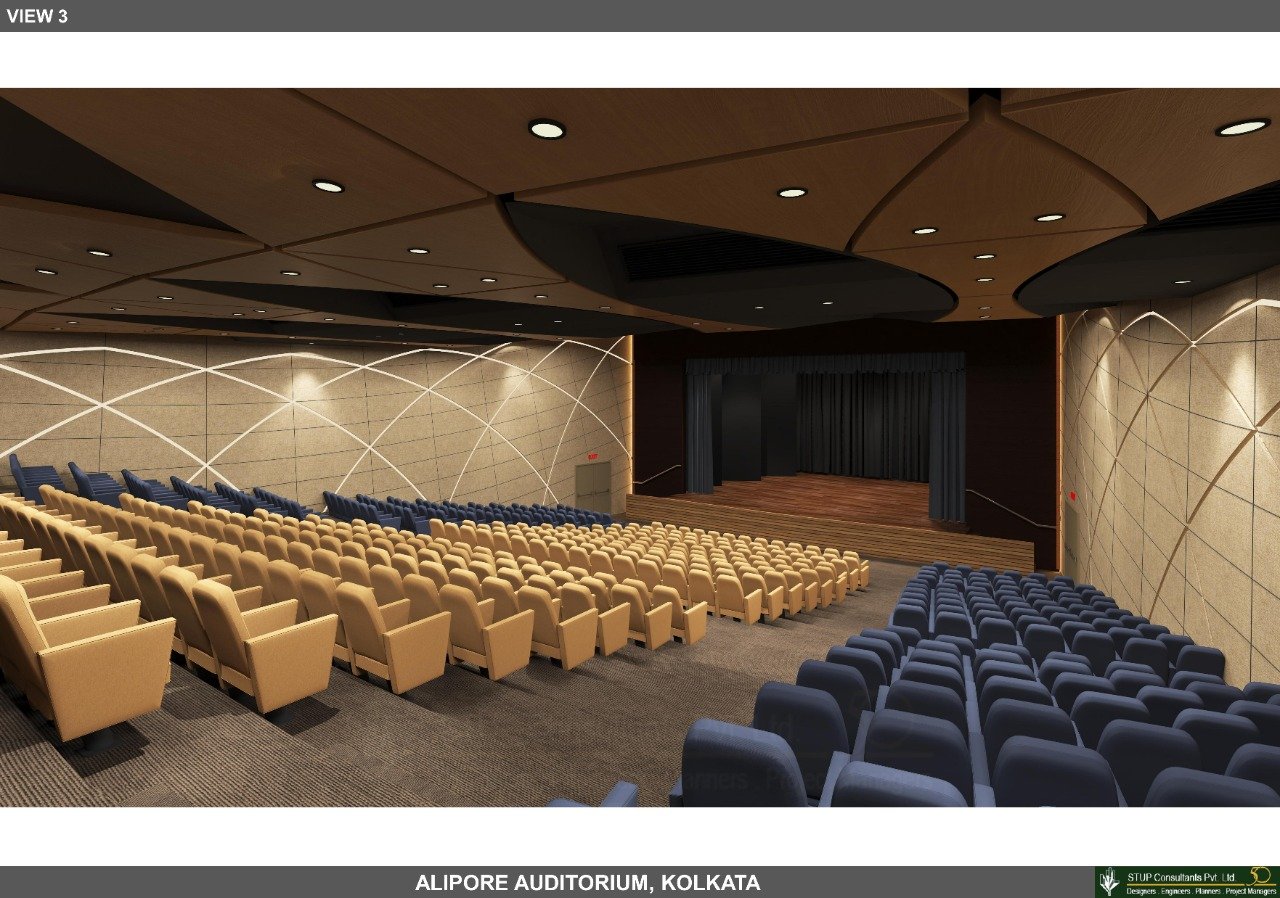 Slide 1
Auditorium Acoustic Treatment in Mumbai
500 Seats
Slide 2
2000 Seats Auditorium
Location : Gandhi Dham,Betteah,Bihar.
Slide 3
1500 Seats Auditorium
Location- Banglore
What is Auditorium Acoustics?
Auditorium Acoustic Treatment goal is to control sound waves' behavior by minimizing undesired reflections, echoes, and reverberation while enhancing the desired sound qualities. By manipulating the acoustic properties of the space, such as the materials used for walls, ceilings, and floors, as well as the arrangement of seating and stage, it is possible to shape the sound field and achieve a balanced and pleasing acoustic environment. Soundproofing in auditorium depends on overall shape, size, and dimensions of the auditorium can greatly affect its acoustics. Optimizing these factors during the design phase can help create a more balanced and pleasing sound environment. For instance, avoiding parallel walls can reduce flutter echoes, and adding irregular surfaces can enhance diffusion.
Ecotone Acoustics provides Auditorium Acoustic Treatment / Soundproofing in Auditorium for making the auditorium free from unwanted reverberation.
Auditorium acoustic treatment is crucial for several reasons:
Sound Clarity and Intelligibility: Proper acoustic treatment ensures that the sound produced within the auditorium is clear and intelligible. By controlling reflections and echoes, minimizes the blurring of sound and enhances the ability to understand speech and discern individual musical notes or instruments. This is particularly important for theaters, lecture halls, and spaces where spoken word or music is a primary focus.

Enhanced Listening Experience: The acoustic quality of an auditorium significantly affects the overall listening experience of the audience. By optimizing the reverberation time and controlling the sound distribution, the acoustic treatment creates a balanced and immersive environment where every listener can fully appreciate the performance or presentation. It enhances the richness, depth, and dynamics of music, as well as the clarity and impact of spoken words.

Artistic Expression: Acoustic treatment allows performers and artists to express themselves effectively. Musicians, singers, actors, and speakers rely on the feedback from the auditorium's acoustics to adjust their performance and interact with the audience. A well-tuned acoustic environment enables performers to hear themselves and others accurately, enabling them to deliver their best performance.

Elimination of Distractions: Excessive reverberation, echoes, and background noise can be distracting for both performers and audience members. Acoustic treatment helps reduce these distractions by absorbing or diffusing sound reflections, ensuring that the focus remains on the intended performance. It creates a more controlled and quieter environment, minimizing external noise interference and optimizing the signal-to-noise ratio.

Versatility and Adaptability: Auditoriums often host a variety of events, from concerts and plays to conferences and lectures. Effective acoustic treatment allows the space to be adaptable to different needs and requirements. By incorporating adjustable elements like acoustic panels, curtains, or movable walls, the acoustic properties of the auditorium can be modified to suit specific events, ensuring optimal sound quality and intelligibility in any situation.

Architectural and Aesthetic Considerations: Acoustic treatment can be seamlessly integrated into the architectural design of the auditorium, enhancing its visual appeal while serving a functional purpose. Acoustic panels, diffusers, and other treatment materials can be chosen to complement the overall aesthetics of the space, creating a visually pleasing environment without compromising acoustic performance.

Overall, auditorium acoustic treatment is essential for creating a controlled and immersive listening experience, optimizing sound quality, and supporting the artistic expression of performers. It contributes to the overall success and enjoyment of events held in these spaces, leaving a lasting impression on the audience
Features of soundproofing in auditorium:
Low Ambient Noise
We help in making you get the best sound clarity so that you are able to get the perfect sound system.
Absorption Treatment is fully integrated such that the transmission can be done in a well-balanced manner with even distribution.
Echo Control
Why we are different from others:
Our Acoustic consultants and architects collaborate to design auditoriums that meet specific acoustic requirements and optimize the listening experience for various types of events, ranging from music concerts and theatrical performances to lectures and conferences. By carefully considering the principles of auditorium acoustics, these professionals aim to create spaces that enhance the enjoyment and impact of sound for both performers and audiences.
Each auditorium acoustic treatment done by Ecotone Acoustics is carried out with the proper use of technology and an improved amount of predictive modeling. With the alternative remedies, we help in evaluating the acoustical needs and requirements in a much more proper manner. We offer proper analysis and share recommendations with the proper auditorium technical systems design. With the right implementation of strategies and constructive plans, we help in leading the proper plan. For all kinds of technical aspects and treatments, our industry-specific products ensure you a better quality of exposure in the industry. Our wall panels in lieu of the auditorium acoustics treatment or Soundproofing in the Auditorium offer marvelous results and look after the reduction of unwanted reverberation and the soundproof system of the auditorium.
Auditorium Acoustic Treatment -
Completed Projects
Nalanda University Auditorium | Location - Rajgir
Auditorium Acoustic Treatment | Delhi Police Headquarter
Auditorium in AIIMS | Location - Bhatinda, Punjab
Auditorium Services | Location - Bangalore
800 Seats Auditorium | Location - Chennai
Location : Gandhi Dham, Betteah ,Bihar
LVM School | Location - Lucknow, U.P
Project - Aligarh Muslim University
1000 Seats Auditorium | Location - Pune
ECOTONE ACOUSTICS - CUSTOMER REVIEWS