Auditorium Acoustic Treatment |
Soundproofing in Auditorium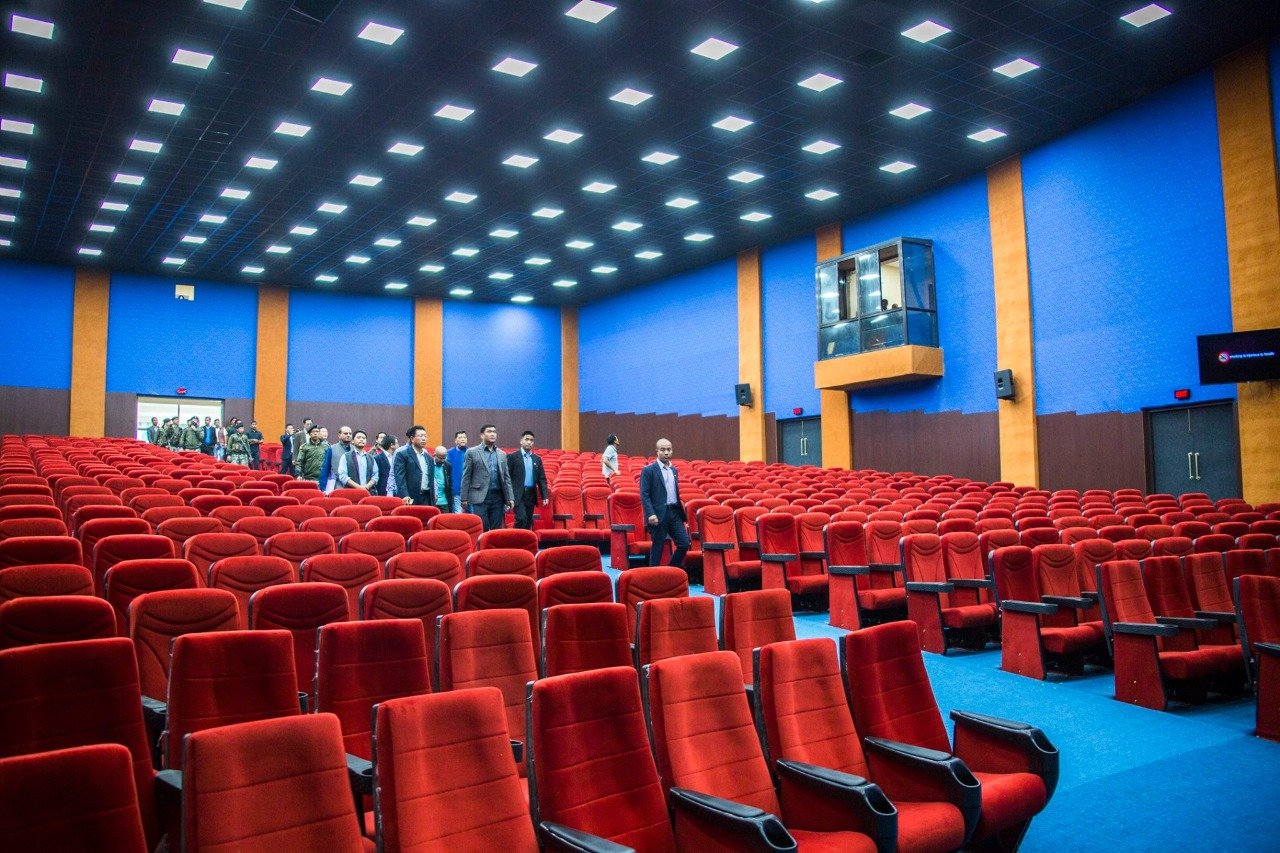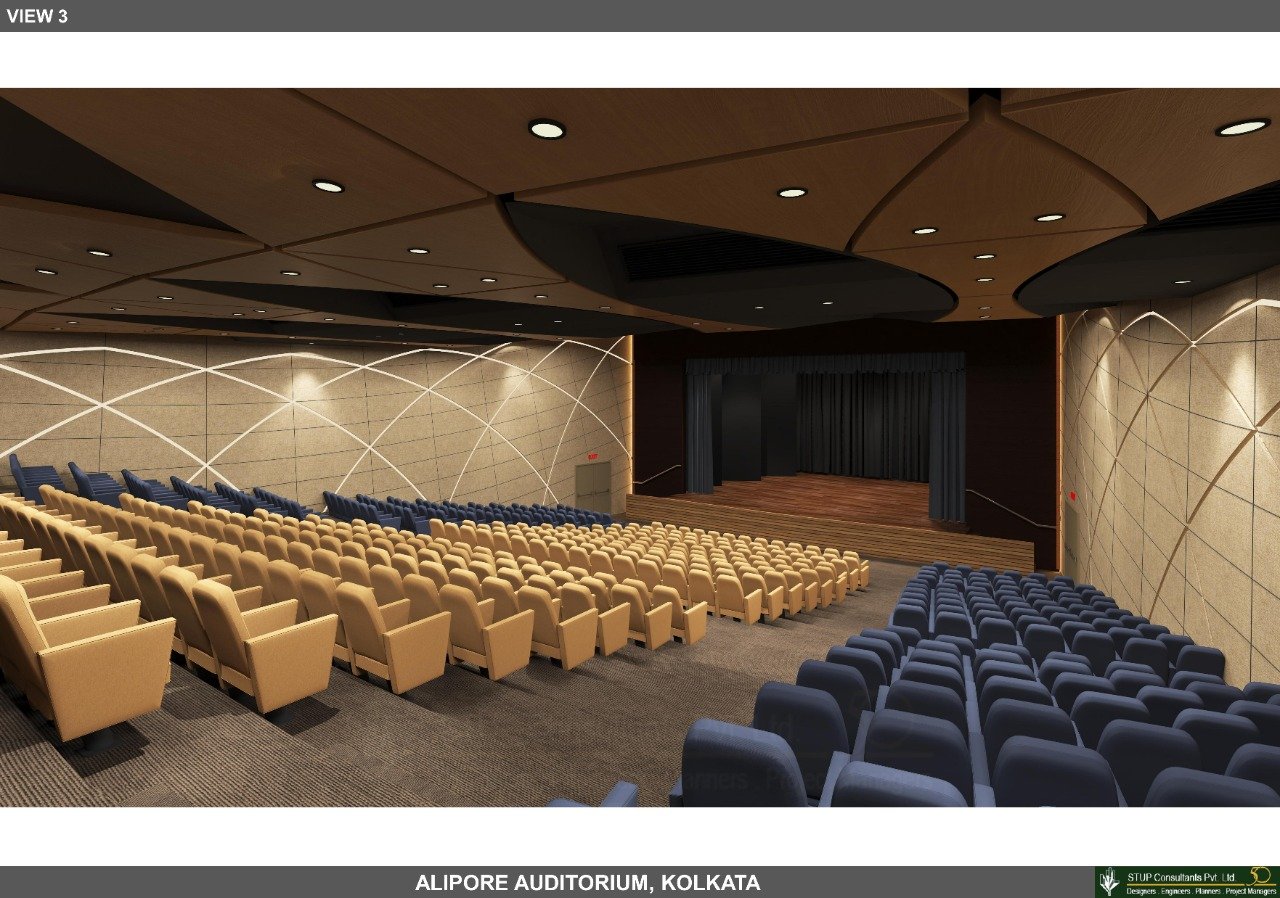 Slide 1
Auditorium Acoustic Treatment in Mumbai
500 Seats
Slide 2
2000 Seats Auditorium
Location : Gandhi Dham,Betteah,Bihar.
Slide 3
1500 Seats Auditorium
Location- Banglore
What Is Auditorium Acoustics?
Auditorium acoustics treatment refers to the study and design of sound properties within an auditorium or concert hall. It involves understanding and manipulating sound waves to create optimal listening conditions for the audience and performers.
The primary goal of auditorium acoustics is to ensure that sound produced on the stage or from other sources reaches the listeners clearly, intelligibly, and with the desired tonal qualities. This involves considering various factors, such as sound reflection, absorption, diffusion, and reverberation.
Auditorium Acoustic Treatment's goal is to control sound waves' behavior by minimizing undesired reflections, echoes, and reverberation while enhancing the desired sound qualities. By manipulating the acoustic properties of the space, such as the materials used for walls, ceilings, and floors, as well as the arrangement of seating and stage, it is possible to shape the sound field and achieve a balanced and pleasing acoustic environment. Soundproofing in  auditorium depends on the overall shape, size, and dimensions of the auditorium. 
Ecotone Acoustics provides Auditorium Acoustic Treatment / Soundproofing in Auditorium for making the auditorium free from unwanted reverberation.
Soundproofing Your Auditorium
To enhance the sound quality within your auditorium, the primary objective is to ensure that every individual, regardless of their seating location, experiences exceptional sound quality. The fan-shaped design of many auditoriums is intentionally crafted to counteract standing sound waves by incorporating non-parallel surfaces. This configuration facilitates an even dispersion of sound waves throughout the seated audience.
However, if the sound becomes distorted due to echoes within the room, the audience will encounter difficulties in comprehending the proceedings on stage. Blurred sound signals undermine the user-friendliness of the space. By strategically placing acoustic materials, such as acoustic panels, on the perimeter walls or ceiling surfaces of the auditorium, it becomes possible to mitigate background noise. These panels effectively capture and absorb echoes, leading to the restoration of greater clarity and the original sound quality. Consequently, the room reverts to offering premium sound quality, leaving the audience, performers, speakers, musicians, and artists on stage appreciative of the enhanced experience.
Four Steps To Achieving Serene Silence
1. Measure Your Auditorium
Obtain the cubic footage of your space by measuring its length, width, and height.
Use the provided button to submit the dimensions of your room for analysis.
We will prepare a comprehensive treatment plan based on your room analysis and provide you with a detailed quote for your approval.
4. Professional Installation By Our Team
Sit back and relax as our experienced team takes care of the installation process.
Why Choose Us For Auditorium Acoustic Treatment?
Customized Solutions: Ecotone's team of experts conducts a thorough analysis of your auditorium, considering factors like room dimensions and sound characteristics, to provide tailored acoustic treatments that maximize sound quality and optimize the acoustics of your space.

Exceptional Performance: With advanced technology and high-quality materials, Ecotone's acoustic treatments effectively control sound reflections, minimize echo, and enhance speech intelligibility, creating a superior acoustic environment for an immersive experience.

Durability and Reliability: Ecotone's acoustic products are built to last, ensuring long-term performance and durability, even in demanding auditorium settings.

Outstanding Customer Service: The Ecotone team is dedicated to providing excellent customer service, offering comprehensive guidance and support throughout the process, from initial consultation to installation, to ensure a seamless and satisfying experience.
FAQs| Auditorium Acoustic Treatment
What materials are used for acoustic treatment in auditorium?

Acoustic treatment in auditoriums typically involves the use of materials such as acoustic panels, diffusers, bass traps, acoustic ceiling tiles, acoustic curtains, and sound-isolating materials. These materials are chosen to control sound reflections, reduce echoes and reverberation, and improve overall sound quality in the auditorium. The specific choice of materials depends on the unique characteristics of the space and the desired acoustic outcome. Professional acoustic consultants and designers like Ecotone Acoustic can help determine the most suitable materials for a particular auditorium.
How can you improve the acoustics in an auditorium?

To improve the acoustics in an auditorium, you can incorporate sound-absorbing materials, such as acoustic panels and curtains, to reduce echoes and reflections. Additionally, use diffusers to evenly scatter sound waves, address low-frequency issues with bass traps, optimize the room layout, and implement sound isolation techniques. Fine-tune the acoustics by calibrating the sound system and seek professional consultation for tailored solutions.
What is an auditorium acoustic?
Auditorium acoustics refers to the study and optimization of sound within an auditorium or performance space. It involves implementing techniques and using materials to control sound reflections, minimize echoes, and enhance the overall quality of sound for both the audience and performers. By carefully considering factors like room design, layout, and the use of acoustic panels, diffusers, and other treatments, auditorium acoustics aims to create an immersive and enjoyable listening experience with optimal sound clarity and balance.
Project Has been Delivered
ECOTONE ACOUSTICS - CUSTOMER REVIEWS
Auditorium Acoustic Treatment -
Completed Projects
Nalanda University Auditorium | Location - Rajgir
Auditorium Acoustic Treatment | Delhi Police Headquarter
Auditorium in AIIMS | Location - Guwahati, Assam
Auditorium Services | Location - Bangalore
800 Seats Auditorium | Location - Chennai
Location : Gandhi Dham, Betteah ,Bihar
LVM School | Location - Lucknow, U.P
Project - Aligarh Muslim University
1000 Seats Auditorium | Location - Pune